Beckoned by the Sea
Women at Work on the Cascadia Coast
"Beckoned by the Sea is diverse, powerful, raw—words that describe both the ocean itself and the collective voices of two dozen women whose compelling stories Taylor brings to life in this vivid work. Taylor adeptly purses her prose to let the voices of these accomplished women drive the narrative and enrich our portrait of Cascadia. It's an important book casts light on the long overlooked role of women in maritime industries and will hopefully inspire the next generation of female seafarers."
—Eric Enno Tamm, author of Beyond the Outer Shores
A rich and diverse tapestry weaving together the many voices, narratives, skills and talents of women up and down the coastal Pacific Northwest who devote their lives and careers to the sea. Beckoned by the Sea celebrates coastal women from northern BC to northern California who work on or with the sea. The twenty-four women featured in this inspiring and fascinating book represent a variety of industries – from conservation, commercial fishing, and marine biology to safety and rescue, tourism and the arts.
Weaving together elements of social history, culture, geography, and environmentalism, author Sylvia Taylor draws on in-depth interviews, meticulous research, and her own experience as a deckhand on a commercial fishing boat. Beckoned by the Sea investigates the myriad ways in which women have contributed to the marine industries that sustain the people and share the culture of North America's west coast – and reveals how the sea itself has touched the lives of these women by giving them not just a livelihood but an infinite source of inspiration and personal fulfillment.
Beckoned by the Sea
is a beautiful exploration of the ocean through the eyes of women who have devoted themselves to it. Taylor does a captivating job of portraying twenty-four seafaring women with iconic Cascadia Coast livelihoods, from captaining tugboats to harvesting kelp to building boats. This book not only gives us an insider's perspective of careers sculpted by water, but the passion and inspiration that drives women to commit their lives to it.
—Julie Angus, author of Rowboat in a Hurricane: My Amazing Journey Across a Changing Atlantic Ocean and Olive Odyssey: Searching for the Secrets of the Fruit That Seduced the World
Book Details
Paperback: 288 pages
Publisher: Heritage House Publishing Co. Ltd. (May 31, 2017)
ISBN: 978-11772031799
Book Dimensions: 5.5 x 8.5 x 0.25 in
Available at: To be announced.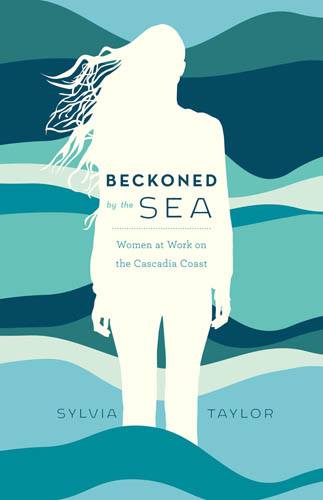 "Sylvia Taylor presents a masterful portrait of twenty-four women whose lives are entwined with the waters of Cascadia from British Columbia to California. Her insightful and multi-faceted revealing of this unique bioregion ties these stories together, and connects the reader to our most precious resource in a compelling and personal narrative."
—Rupert Macnee, documentary film producer
"A worthy read. Sylvia Taylor has respectfully researched and written a wonderful tribute to the women who share their souls and tell their compelling stories about all things marine in 
Beckoned by the Sea: Women at Work on the Cascadia Coast.
"
—Margo Bates, author; past president, Canadian Authors–Metro Vancouver
"Sylvia Taylor has corralled twenty-five remarkable women of the sea, embedding their stories of growth and adventure in a thoughtful narrative of the times, places, and disciplines. Motivational and entertaining, this book is to be enjoyed and passed on, especially to Millennial readers."
—Louis Druehl, writer and marine botanist